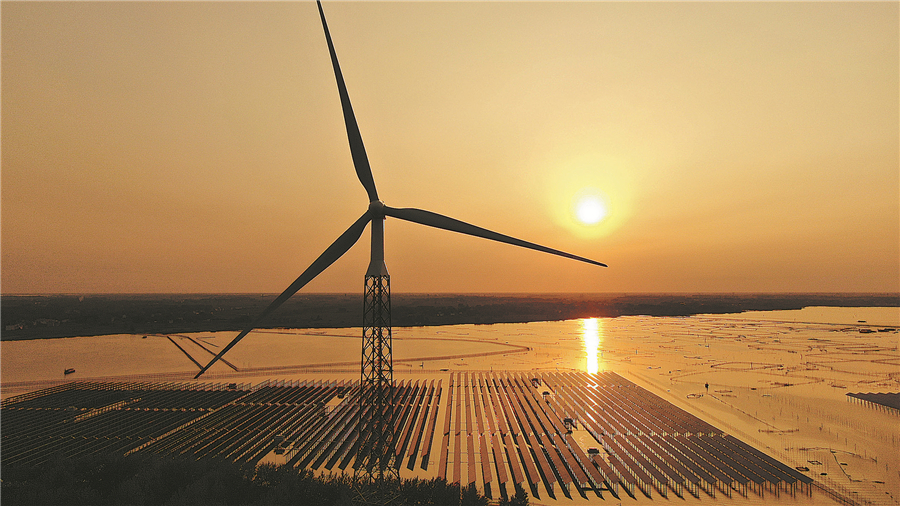 China has identified wind and solar energy as key areas for growth in the nation's energy mix. [Photo by Xu Congjun/For China Daily]
China and its international partners have taken another step forward to facilitate green investment in the Belt and Road Initiative by establishing a green development institute in Beijing.
Zhou Guomei, executive director-general of the Foreign Environmental Cooperation Center under the Ministry of Ecology and Environment, said during the inauguration ceremony for the BRI Green Development Institute-an international think tank launched by the BRI Green Development Coalition in Beijing-that it will provide all-around support to the coalition with an international team.
Among the institute's major tasks is to guide enterprises to attach more importance to environmental protection, enhance environmental management and promote joint research on green development, climate change, biodiversity protection and green finance, said Zhou, who is also the institute's executive director.
On the sidelines of the ceremony, the coalition also published a baseline study report on green development guidance for BRI projects, which suggested some prioritized actions for the establishment of a Green Light System.
Initiated by the coalition late last year, the system aims to explore the formulation of guidelines on the assessment and classification of BRI projects and provide guidance for stakeholders to further recognize and address environmental risks in overseas investment.
The report suggested establishing a sound incentive and punishment mechanism to guide financial institutions in terms of management of projects in accordance with their environmental risks and impacts.
It also called on the government to classify BRI projects based on their environmental impact in an effort to encourage financial institutions, investors, project implementers and government agencies to shift investments to green endeavors.
Erik Solheim, former executive director of the United Nations Environment Programme, said he expects the new institute to play a role in promoting the Green Light System.
"We want a dialogue as to what is the best environmental practice and how it can be achieved," said Solheim, who is also convener of the coalition's advisory committee.
Solheim said he also hopes the institute will help "promote all the fantastic practices from China".
"Over the last few years, China has developed first-class experience in many environmental fields," he said, citing examples including the achievement the country has made in air pollution control.
Marco Lambertini, director-general of World Wildlife Fund for Nature and also co-chair of the coalition, said the WWF is glad to see the progress that has been made in the Ecological Conservation Red Lines in China, from delineation to management.
Mapping high environmental value regions and identifying no-go zones where investment should not be made, as well as high risk areas where investments should be well-regulated are important to guide investments, he said.
Further, the Green Light System will be an important tool for the stakeholders in China and other BRI countries to better identify and address the environmental risks in overseas investment, he added.
With more than 150 partners from 43 countries, the coalition has organized 10 seminars on green BRI as the COVID-19 pandemic continues to exert a negative impact on many parts of the world, said Zhao Yingmin, vice-minister of ecology and environment.
"We have carried on communication and cooperation, without being interrupted," he noted.