On Apr 27, 2021, a seminar was held to discuss the role of Chinese environmental NGOs in the building of green Silk Road. The event was jointly organized by the Secretariat of BRI International Green Development Coalition (BRIGC), All-China Environment Federation (ACEF) and China Ecological Civilization Research and Promotion Association (CECRPA). The meeting was joined and delivered by Mr. Li Yonghong, Deputy Director-General of Foreign Environmental Cooperation Center of Ministry of Ecology and Environment (FECO), Ms. Xie Yuhong, Vice Chairman and Secretary General of ACEF as well as Mr. Yu Xuwen, Deputy Secretary General of CECRPA. More than 20 delegates from ministries, environmental NGOs, research institutes and enterprises attended the meeting.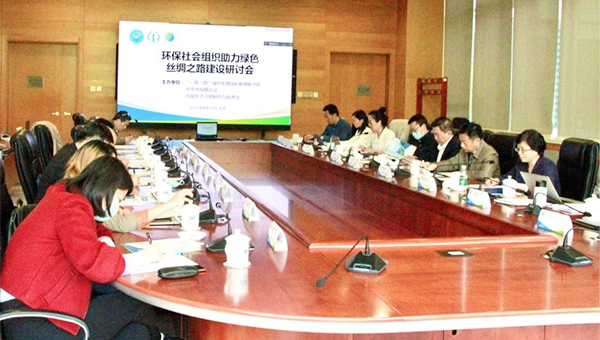 The meeting aims to discuss existing challenges for China's environmental NGOs to practice going global, and put forward measures and recommendations on enabling Chinese environmental NGOs to help BRI participating countries improve environmental management and to promote green Silk Road.
Li Yonghong said that against the backdrop of COVID-19 outbreak and economic recession, there are high expectations from the international community on BRI's contribution to green recovery. Environmental NGOs can play an important part in building consensus on green development. Xie Yuhong noted that environmental NGOs can serve as a bridge connecting the governments, enterprises and local communities through bottom-up environmental projects. Yu Xuwen stressed that the building of green Silk Road calls for the active participation of environmental NGOs to enhance understanding and boost people-to-people bond. Mr. Liu Xiangyu, Deputy Director of the Department of Regional Opening-up, National Development and Reform Commission of China, pointed out that in the fight against climate change, China's environmental NGOs can play a more active role on the international arena and contribute more to the building of green Silk Road.
The experts' discussions focused on the current situation, problems and roadmaps for China's environmental NGOs going global. Prof. Zhang Qiang, Director of Innovation Center for Risk Governance of Beijing Normal University, said that environmental NGOs should continue to strengthen their capabilities and strive to fit in the local community, sharing China's ecological and environmental concepts, standards, regulations and experiences with BRI countries. Mr. Huang Haoming, Vice President of China Global Philanthropy Institute, came up with policy recommendations on how to support the going global strategy for China's environmental NGOs. Ms. Jia Xijin, Vice President of Institute for Philanthropy of Tsinghua University, noted that environmental NGOs should focus on the social functions and public benefit, and commit to promoting local sustainable development.
Representatives from China Three Gorges Corporation, China Road & Bridge Corporation and China Railway International Group shared practice of their overseas green projects and experiences in exchange and cooperation with environmental NGOs.
Staff from the Secretariat of BRIGC also joined the meeting.