The Workshop on BRI Green Finance and Environmental Management co-hosted by the BRI International Green Development Coalition (BRIGC), Institute of Finance and Sustainability (IFS), and ClientEarth was held on June 24-25, 2021 in Beijing.
The event was attended by a number of invited speakers, including Mr. Rhys Gordon-Jones, Financial and Professional Services Counsellor of British Embassy; Mr. Ma Jun, Advisor of the BRIGC Advisory Committee, Chairman of Green Finance Committee (GFC) of China Society for Finance and Banking, and President of IFS; Mr. Ye Yanfei, Counsel (DG Level) of Policy Research Bureau of China Banking and Insurance Regulatory Commission (CBIRC); Ms. Huang Shan, General Manager of Appraisal Management Department of China Export & Credit Insurance Corporation (Sinosure); Mr. Li Yuanshi, Director of EIA and Discharge Permission Division 2, Department of Environmental Impact Assessment and Emission Management, Ministry of Ecology and Environment (MEE); Mr. Li Yonghong, Deputy Director General of Foreign Environmental Cooperation Center (FECO) of MEE; Ms. Yin Hong, Deputy Director of Modern Finance Research Institute of Industrial and Commercial Bank of China (ICBC); Mr. Dimitri de Boer, Chief Representative of ClientEarth China; Mr. Wang Canfa, Professor of China University of Political Science and Law (CUPL) and Ms. Wang Yao, Director of International Institute of Green Finance (IIGF) of Central University of Finance and Economics (CUFE).
The meeting also attracted more than 60 representatives from around 20 Chinese and international institutions, such as Asian Infrastructure Investment Bank (AIIB), Export-Import Bank of China (EXIM), Silk Road Fund, Bank of China (BOC), China Construction Bank, Bank of Jiangsu, Ping An Group, CUPL, IIGF, UK Pact, World Resources Institute (WRI), etc.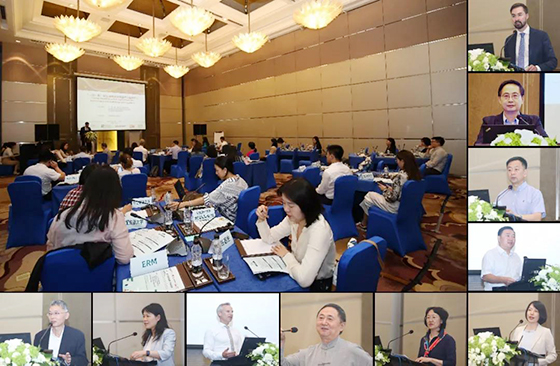 The workshop explored the opportunities and challenges in supporting the BRI through green finance, shared experience and practices on sustainable investment by financial institutions, and exchanged views on topics such as raising green development capacity in BRI projects, enhancing eco-environmental and climate management capability of financial institutions, strengthening information disclosure and public participation, and promoting innovations on green finance.
Mr. Rhys Gordon-Jones said in his remarks that this event helped financial institutions raise their capacity of climate management in overseas investment and financing projects. The cooperation between the UK and China can make important contributions to the joint development of green finance and tackling climate change in BRI participating countries.
Mr. Ma Jun pointed out that the joint promotion of the sustainable development in BRI participating countries not only required investment, but also the meeting of green, sustainable and low-carbon standards. The Green Investment Principles for the Belt and Road (GIP) provide important tools for financial institutions to identify environmental and climate risks.
Mr. Li Yuanshi said that MEE attached great importance to the ecological and environmental management of overseas investment projects and a series of work has been carried out. In the future, the MEE will continue to help form the joint efforts in environmental and climate management of administrative authorities, financial institutions and enterprises in the BRI.
Mr. Li Yonghong emphasized that synergizing the development of green finance in the BRI and enhancing environmental management capacity in overseas projects is an important part of building a green Silk Road. It is important to improve and enable BRIGC to play a more active role in establishing the policy support and technical guarantee system to promote green overseas investment and serve the green and high-quality development of BRI.
Participants discussed issues related to green finance and environmental management of overseas projects.
Mr. Ye Yanfei elaborated on the importance of preventing and mitigating environmental risks of investment and financing of overseas projects. He pointed out that financial institutions should take proactive actions, focus on key areas such as risk identification and full-process credit management, and build climate-friendly banks.
Ms. Huang Shan shared the experience of export credit insurance agencies in preventing environmental and climate risks, and the specific practices of Sinosure to promote the implementation of carbon peaking and carbon neutrality goals.
Ms. Yin Hong explored the paths for financial institutions to support green Silk Road, based on the work of ICBC in the fields of business development, innovation research, international cooperation, etc.
Mr. Wang Canfa analyzed the development process and current situation of environmental laws, regulations and standards in some BRI participating countries, and pointed out that environmental information disclosure and public participation is one of the important ways to prevent environmental legal risks.
Ms. Wang Yao introduced the relationship between international carbon neutrality strategies and green finance development, and pointed out that Chinese financial institutions need to proceed transition to green finance in BRI in order to help achieve global Net-Zero.
Mr. Christoph Nedopil, Director of Green BRI Center in IIGF, used case study to analyze how to manage environmental and social risks in investment and financing process.
Mr. Henri de Branche, Senior Environmental Specialist of Asian Infrastructure Investment Bank(AIIB) introduced AIIB's Environmental and Social Framework and standards & procedures of Environmental and Social Appraisal.
Representatives from FECO shared the work and progress of BRIGC and BRI Environment Big Data Platform.
The workshop also discussed topics on enhancing banks' environmental and social management capabilities, improving information disclosure and grievance mechanisms, incorporating environmental and social factors into all project phases, and innovating climate investment and financing products.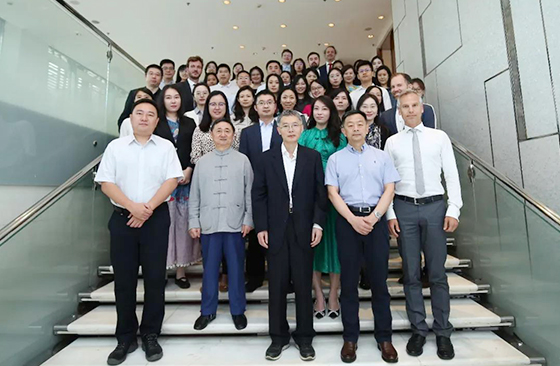 Participants agreed that this event strengthened the connection between financial institutions and environmental authorities in advancing green finance and enhancing environmental and climate management, encouraged financial institutions to continue building consensus on green and low-carbon development, and supported financial institutions to better respond to environmental and climate challenges. It was also agreed that the workshop has achieved positive results.