On December 8, 2021, the BRI International Green Development Coalition (BRIGC) held the Expert Meeting on BRI Green Development Outlook online to systematically summarize the progress and effectiveness of building the Green Belt and Road over the past eight years since the Belt and Road Initiative (BRI) was proposed. BRIGC invited Chinese and international experts to discuss the current situation and potential of green development in BRI participating countries, identify the opportunities and challenges of BRI green development, and propose the outlook for a green, low-carbon and sustainable BRI development.
Mr. Erik Solheim, Convener of the BRIGC Advisory Committee and International President of BRI Green Development Institute, Mr. Xue Lan, Co-Director of Institute for Sustainable Development Goals and Dean of Schwarzman College of Tsinghua University, Mr. Guo Jing, National Inspector on Ecological and Environmental Protection, Secretary-General of BRIGC Secretariat, and President of BRI Green Development Institute attended the meeting and delivered opening remarks. The event invited Chinese and international experts to share insights and comments, including Mr. Zhai Dongsheng, Director General of BRI Construction Promotion Center of National Development and Reform Commission (NDRC), Mr. Liu Hongpeng, Director of Energy Division of United Nations Economic and Social Commission for Asia and the Pacific (ESCAP), Mr. Ye Yanfei, Counsel of Policy Research Bureau of China Banking and Insurance Regulatory Commission (CBIRC), Mr. Arthur Hanson, Advisor of the BRIGC Advisory Committee, Special Advisor and Former President of International Institute for Sustainable Development, Ms. Zhang Jieqing, Country Director of Natural Resources Defense Council (NRDC) China, Mr. Wang Tianyi, Advisor of the BRIGC Advisory Committee and Chairman of the Board of China Everbright Environment Group Limited, Mr. Mustafa Hyder Sayed, Executive Director at Pakistan-China Institute, and Mr. Sheng Fulai, Head of Economic and Trade Policy Unit, Resources and Markets Branch, Economy Division, UN Environment. Mr. Li Yonghong, Deputy Director General, Foreign Environmental Cooperation Center (FECO) of Ministry of Ecology and Environment (MEE) and Mr. Zhang Jianyu, International Coordinator of the BRIGC Advisory Committee and Executive President of BRI Green Development Institute, moderated the meeting.
The seminar also attracted more than 50 representatives from Chinese and international institutions to join online, including inter alia BRIGC Advisory Committee, lead partners from thematic partnerships, UN Sustainable Development Solutions Network (SDSN), Institute for Sustainable Development Goals of Tsinghua University (TUSDG), Energy Foundation China (EF China), Environmental Defense Fund (EDF), and ClientEarth.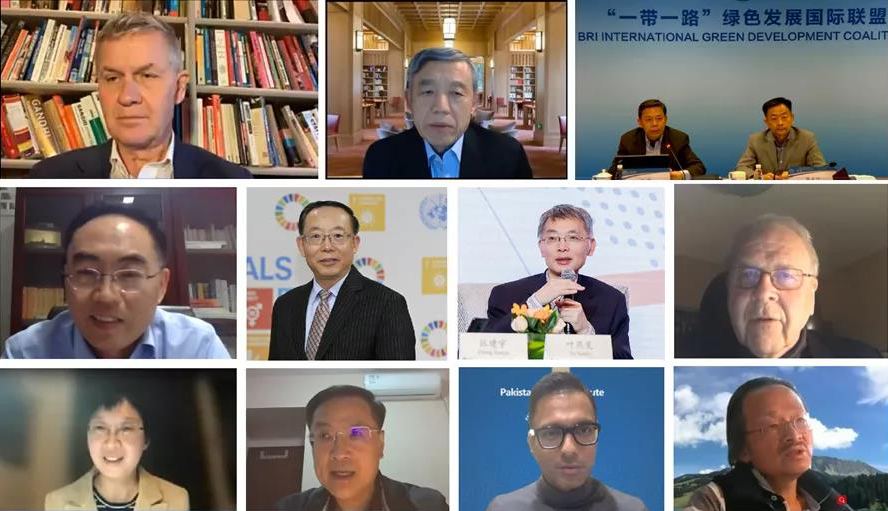 Dr. Zhu Yuan, Associate Director Specialist from BRIGC Secretariat and Mr. Zhu Xufeng, Associate Dean and Professor of the School of Public Policy & Management of Tsinghua University, introduced the research progress of BRI Green Development Outlook. At present, the study has established a BRI Green Evaluation System that covers economic, social and environmental sectors and has delivered preliminary evaluation results for over 90 BRI participating countries' green development.
The meeting concluded that BRI participating countries, especially developing countries, are facing the dual challenge of COVID-19 and climate change. BRI green development can contribute to the 2030 Sustainable Development Goals (SDGs) and to the post-pandemic recovery. The experts recognized the importance of conducting the Outlook study in the current situation and hoped that the study could become a flagship brand in BRI green development. Experts suggested that the study should be science-based, international and visionary, with a focus on key areas such as green infrastructure, green investment and finance, green development of overseas projects, green technological innovation and building green development capacity for BRI participating countries. Targeted research methods including scenario analysis, case analysis and comparative analysis were recommended to further improve the database and carry out dynamic assessments. Experts also emphasized the importance of the participation of BRI participating countries based on their needs and the necessity to carry out extensive consultation with various stakeholders to put forward priority areas and feasible paths for promoting the green Silk Road.
The BRI Green Development Outlook is a flagship project of BRIGC. Officially launched in June 2020, it has been carried out by BRIGC, SDSN, TUSDG, EF China, EDF and relevant BRIGC thematic partnerships. The research outcomes and policy recommendations will provide references for decision making on aligning the green development needs of BRI participating countries and deepening BRI international cooperation on ecological and environmental protection. The interim report will be released at the BRI Green Innovation Conference (2021) in Shenzhen in December 2021.